>SUICRO Newsletter

Underground: An A5 newsletter, published 4 times a year, giving up to date information on new discoveries, caving events, activities, rescue and safety, equipment and techniques.
It is published by the Speleological Union of Ireland in conjunction with the Irish Cave Rescue Organisation.
Issued to members of SUI. Receive your newsletter by joining NOW.
View contents of most recent issues below.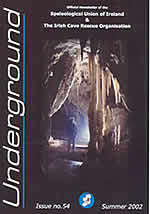 Issue 54. Summer 2002
SUI and ICRO Commitees
Irish Student Caving Forum
Pre-Book Launch Trip
Caves Beyond Time
ICRO News
Karstology: Theoretical or Applied
Cave Diving in Mexico
Other Bits
Issue 53. Spring 2002
SUI and ICRO Commitees
SUICRO 2001
Irish Student Caving Forum
Eurpean Geopark Status for Marble Arch
Expedition Caving Symposium
SUI News
ICRO News
Youth Cave Training
XVIIIth Int. Symposium Theoretical and Applied Karstology
Open Invite to NI Instructors
The Badgers A***
Fermanagh's Bits and Pieces
News in Brief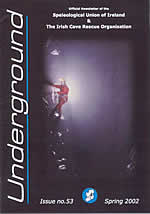 Issue 52. Winter 2001
SUI and ICRO Commitees
Letter from the Chairman
Poll na Ionian
Classic Landforms of the Burren Karst
Exploring the Limestone Landscapes of the Burren and the Gort Lowlands
Results of the Symposium Questionnaire
SUI News
ICRO News
Fairytale Series goes Belly Up!
Youth Cave Training 2001-2002
News in Brief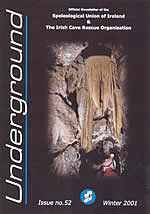 Issue 51. Autumn 2001
SUI and ICRO Commitees
Beneath our Feet
New finds in Cork
Irish Cave Diving Course
SUI News
SUICRO Symposium 2001
2001 China Caves Project
International Cave Diving Workshop
Cave Batteries and their Maintenance
News in Brief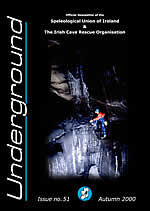 Issue 50. Summer 2001
SUI and ICRO Commitees
Official Launch of CavingIreland.org by Dr. Jim Mc Daid
Millenium Edition of the Irish Sump Index
Franco-Irish Cave Diving Exchange
New Caves and Bats in Co. Clare
SUI News
ICRO News
A Tangled Web: Benarat 2000
Flood Pulse Monitoring
News in Brief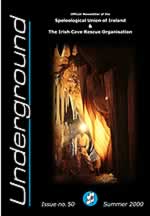 Issue 49. Spring 2001
SUI and ICRO Commitees
www.cavingireland.org
Foot and Mouth, and Caving
Cullaun 5 goes Ballistic
Benarat 2000
Caving Email lists
The Karst of Ireland: Limestone Landscapes, Caves and Groundwater Drainage Systems
SUI News
ICRO News
Return from the Deep Freeze
World Depth Record
So, what are Helictites?
News in Brief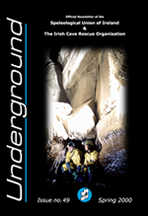 Issue 48. Winter 2000
SUI and ICRO Commitees
Symposium 2000
Rescue in Pollbeg
The Hunchedback's Revenge
SUI News
ICRO News
Further proceedings from the Symposium on Cave and Karst Conservation and Access
Do you know the way to San Jose?
SIN's 2000
Initiateur Cave Diving Workshop
Doolin cave work could spark legal action
Poll an Ionain Trust
SUI Youth Cave Training Weekend
Other Bits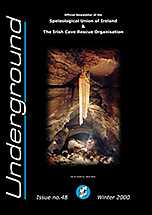 Issue 55. Autumn 2002
SUI and ICRO Commitees
Suicro 2002 Symposium
Flow monitoring in Upper Poulnagollum
Poulnagollum Survey
New classes of membership in SUI
Through Hell and High Water
The Conservation status of caves in Northern Ireland
Other Bits